Nikola Tesla – quirks of a genius inventor
Nikola Tesla was unusual man. Definitely one the that few human beings which influenced the way we live our everyday lives today very strongly although most people have no idea who he was and what he did.  Among scientific community he is recognized mainly as one of those who contributed to the birth of the electricity usage in it's commercial dimension. But still the truth is that his work influences many of modern inventions that we use until today like for example:  nuclear physics, remote control devices, computer science, radar and robotics, and to the expansion of ballistics, , and theoretical physics. Unfortunately many of them are today actually attributed to other inventors. The reason is that Tesla didn't use to take care of such unimportant details like earning money, filling patents or reaching fame.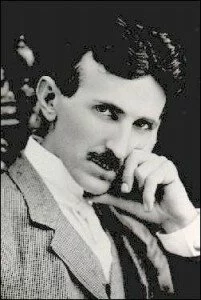 He was a technical genius indeed. his thinking was at least one generation ahead of his times, and was seen as very controversial. Some people would even describe him as "mad scientist".  Let's examine stranger side of his personality a bit closer. Let's see how he saw the world.
Tesla had never decided to get marry, despite being popular with opposite sex. He was a loner, thinking about science most of the time. He got attention of women intensively, as he was well known, tall and good looking. He was even said to be an object of some females obsessions, as they prayed for his attention. Despite of that he lived alone, believing that with his ultra-sensitive mind he would have to completely addict to a women, if he get into relationship. He really believed that if he stayed alone it will be helping him to keep his scientific abilities on the top level.
Extraordinary level of sensitivity was his quality – he actually couldn't function in normal way, as everyday situations were often to strong for his senses.
- he couldn't stand the sound of carriage driving by
- when seeing flashing lights he felt like they were crushing his skull
- whistle of locomotive passing by was giving him headache,
That's not all.
- he had no trouble hearing conversations of people who were distanced hundred  meters from him,
- he could  even hear a thunder from as far as800 kilometres.
Not only his senses were ultra sensitive, but his imaginary abilities were incredible.
Tesla was able to see projects of his inventions in perfect details inside his head.
He didn't need to draw any pictures. He was able to develop any invention in his imagination from scratch to complete machine. Tesla usually envisioned a project of machine, put it into motion, leave it for some time, and only come back to it later to check if it's working properly. If not he would make corrections and again leave machine running inside his imaginary laboratory.